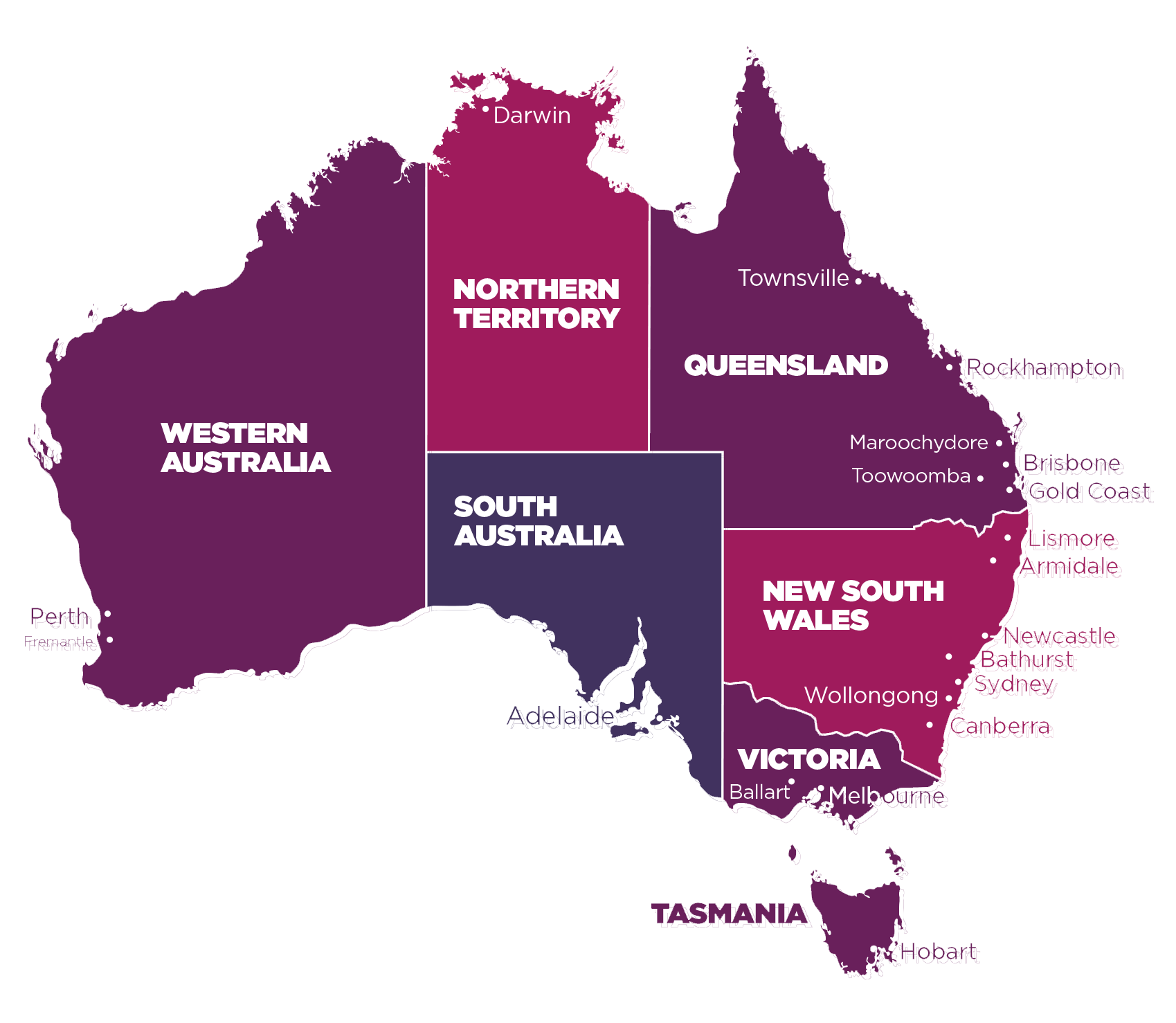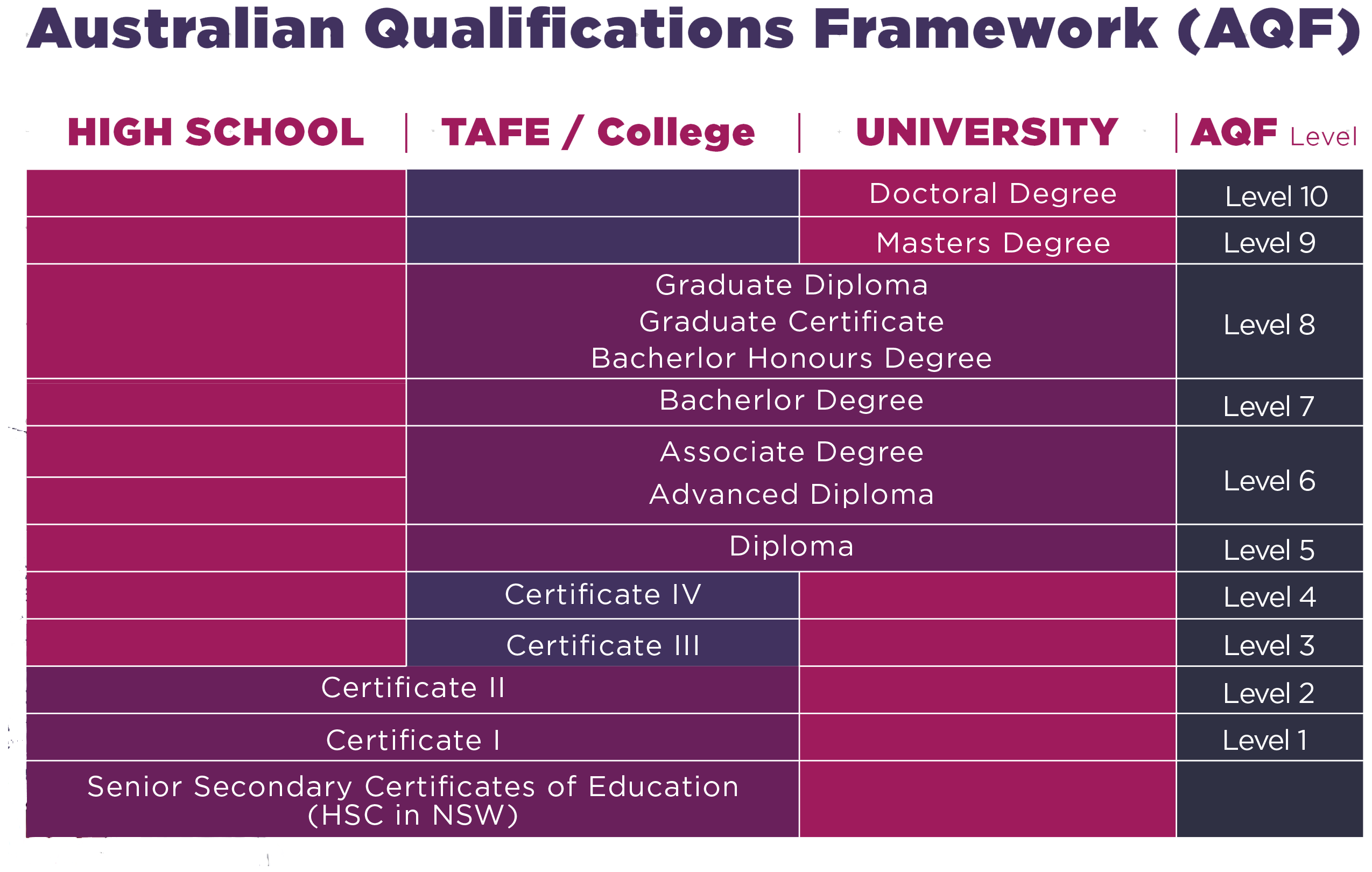 Study Level Based Cost and Intake
| LEVEL | COSTS | INTAKE START | SEMESTERS | LENGTH |
| --- | --- | --- | --- | --- |
| School | $7,800 - $30,000 per year | January | ** | January |
| English Language | $300 - $500 per week | Every week | ** | Every week* |
| Foundation | $9,000 - $14,000 per year | Jan, Apr, Aug, Nov | 4 | 8 - 12 months* |
| Vocational Education and Training | $5,500 - $ 22,000 per year | Feb,Apr,July,Nov | 4 - 6 | 1 - 4 years |
| Undergraduate Bachelor Degree | $15,000 - $33,000 per year | Mar,July,Nov | 2 or 3 | 3 - 4 years |
| Postgraduate Master Degree | $20,000 - $37,000 per year | Mar,July,Nov | 2 or 3 | 1 - 2 years |
| Doctoral Degree | $14,000 - $40,000 per year | Agreement with supervisor | No formal semesters | 3 years |
Study Level Based English Requirement
Programs
English Test Score
Score Board


Diploma Program

IELTS - Overall band score of 5.5;
no less than 5.0 PTE - Overall 45;
no less than 36

IELTS: 5.0 - 5.5

PTE : 36 - 45

Bachelor Programs

IELTS - Overall band score of 6.0;
no less than 5.5 PTE - Overall 50;
no less than 45

IELTS: 5.5 - 6.0

PTE:45 - 50

Graduate Diploma

IELTS - Overall band score of 6.0;
no less than 6.5 PTE - Overall 65;
no less than 50

IELTS: 6.0 - 6.5

PTE:50 - 65

Master Program

IELTS - Overall band score of 6.5;
no less than 6.0 PTE - Overall 65;
no less than 50

IELTS: 6.0 - 6.5

PTE:50 - 65
HOW TO ESTIMATE THE COST OF STUDY IN AUSTRALIA?
Here are the Steps for you to follow to estimate the cost of studying in Australia.
| S.N | Check the annual tuition fees in Australia | Budget |
| --- | --- | --- |
| 1. | Universities fees | $30,000.00 per year |
| 2. | Diploma fees | $6,000 to $8,000 per year |
| 3. | Elicos or English course can be vary | $180 - $350 per week |
| 4. | Check the costs associated to Visa, Medical Check and OSHC(Overseas Student Health Cover) | Varies |
| 5. | A new student visa is | $620 |
| 6. | Medical check-up in Australia | Around $315 |
| 7. | OSHC insurance need to be paid full up front for all duration of student visa, approximately | $1100 for two years. |
| 8. | Check the annual living cost in Australia. | $21,041 for single applicant |
3rd Most popular international student destination in the world
Australia has educated 15 Nobel Prize Laureates in the fields of medicine, science and literature
37 out of 43 Australian Universities were rated the among world's best in QS Rankings 2018
A Great Diversity and Multi-Cultural Society with a lot of course options
Employment and Career Opportunities with Post-Study Work Rights In Australia
Relatively lower cost of education compared to other Universities
Great place to visit along with your education in Australia
Part-time Work Right during study and Full-time during holiday
Numerous Scholarships Opportunities in big Universities
Skilled Migration Program
Register to get a free consultation!
Steps to Study in Australia
Registration with StudyNet and get Counselling
Course and University selection along with document preparation

Genuine Temporary Entrant (GTE) and financial Assessment for Application process

Application and Letter of Offer

Offer acceptance and Payment

Confirmation of Enrollment (COE) & OSHC
Lodge your Visa Application
Conducting your Medical Checkup
Visa Outcome & Start your new Journey in Australia
Top Courses to Study in Australia Right now
Frequently Asked Questions(FAQ)
Top Scholarships in Australia
Book an Appointment with Us
Our service is 100% free!
We discuss your course & career options providing study choices that match your budget and goal. We manage all paperwork for your student visa application taking the stress out of entire process!
We speak your Language
We speak 17 different Languages apart from English.
Experienced Counsellors
We are a leading Education & Migration Consulting Company headquartered in Sydney and has city offices in Melbourne and Brisbane in Australia and in 6 countries globally . Our counselors are PIER and MARA Certified.
We have 3 offices in Australia
SYDNEY : Suite 1.02, Level 1, 233 Castlereagh Street, Sydney 2000. MELBOURNE: Suite 5, Level 11, 167 Queen Street, Melbourne VIC 3000. BRISBANE : Suite 2, Level 5, 117 Queen Street, Brisbane QLD 4000
$150 Referral Bonus
Refer a friend to enrol through us and get $150 for every successful referral. Conditions apply
PR pathway Course
Receive proactive assistance from our education experts in choosing appropriate program or schools for further studies.