Email: Enquiry@studynet.com.au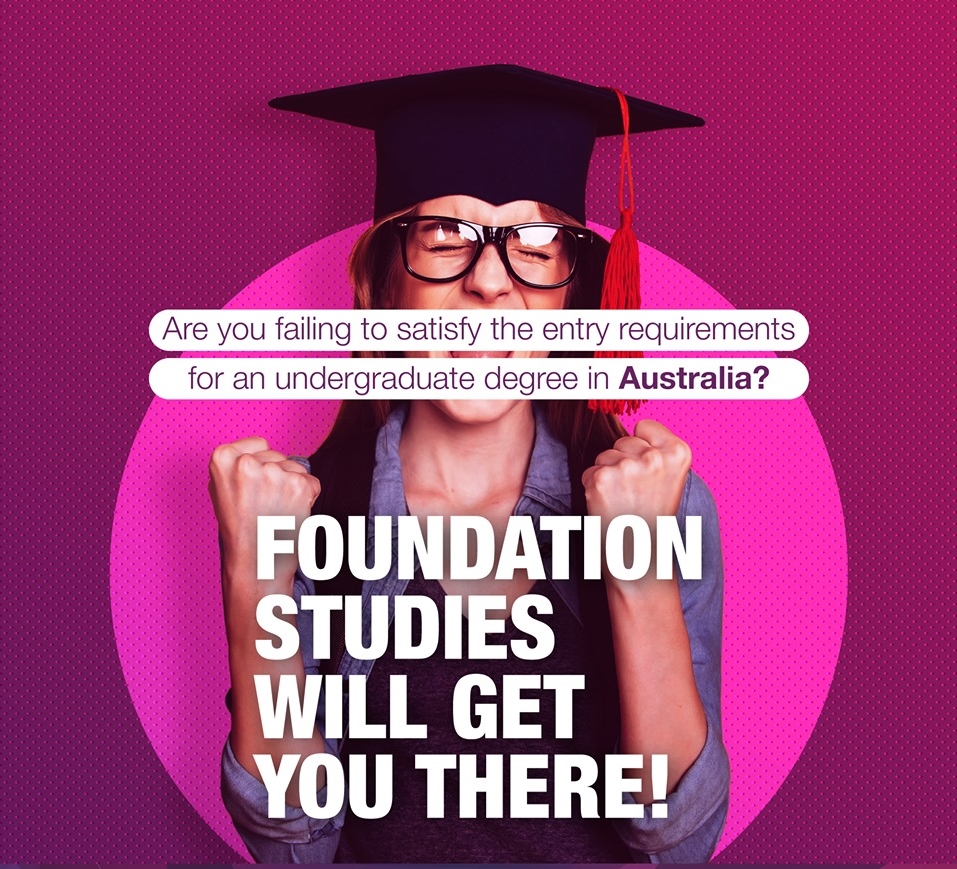 Apply Now to check your eligibility!
( Applicable for International students and non-residents only )
COMPARE THE FOUNDATION COURSES AND APPLY NOW
Choosing to undertake Foundation Studies is your guaranteed pathway to an undergraduate degree at your chosen University. Designed specifically to equip you with the knowledge and skills needed for university, Foundation Studies programs are a great way to explore the different subjects that will lead you to your undergraduate degree dream closer and faster.
| Course Details | UNSW Global to UNSW | Tylors College to The University of Sydney | Tylors College to The University of Western Australia | The University of Adelaide College to The University of Adelaide | ANU College to ANU |
| --- | --- | --- | --- | --- | --- |
| In the world. QS World University Rankings, 2018-2019 | 45th | 42th | 91th | 114th | 24th |
| Australian University Rankings | 4th | 1st | 7th | 8th | 1st |
| In the world for employer reputation | 36th | 4th | 141th-150th | | 21th |
| In the world for academic reputation | 36th | 4th | 111th | 139th | 48th |
| Most employable | UNSW graduates are the most employable students in Australia. | Usyd graduates are the most employable students in Australia. | UWA graduates are the most employable students in Australia | Uni of Adelaide graduates are the most employable students in Australia | ANU graduates are the most employable students in Australia |
| International student satisfaction | 90% | 95% | 95% | 90% | 97% |
| Campus Location | Sydney -CBD | Sydney-Surburb | Perth-Suburb of Crawley | Adelaide- Hub Central North Terrace campus | Canberra- Suburb of Acton |
| Campus Distance from City | 20 Mins -By Bus | 20 minutes on the bus from the city centre | 10 Minutes from Perth CBD | in adelaide city | 10 Minutes from Perth CBD |
| Intakes Available | FEB, JULY & SEP | FEB, APRIL, JULY, OCTOBER & SEP | JAN, APRIL, JULY, OCTOBER | FEB,JULY AND OCTOBER | JAN, APRIL, MAY, JULY, OCTOBER< NOVEMBER |
| Enrolment fee | $300 | $335 | $335 | $335 | $335 |
| Extended Foundation (who require additional English support) | | | | | |
| Discipline (Future Degree) | Arts, Commerce, Design & Science | Arts, Commerce, Design & Science | Arts, Commerce, Design, Science & Science (Engineering Science) | Sciences,Professions,Arts,Engineering, Computer and Mathematical Sciences,Health Sciences | Science, engineering and computer science; business and economics; arts, law and social sciences |
| Duration | 15 Months | 18 Month | 15 months | 9-11 month | 14.5 months |
| Academic Entry Requirment | SPM/UEC – C/C8 average | SPM - aggregate of 30 or less across 5 academic subjects. | SPM (or forecast) - aggregate of 30 or less across 5 academic subjects | Completion of SPM with a min 5 passes in academic subjects with a 'C' grade avg. (SPM forecast results accepted) | SPM (or forecast) - aggregate of 30 or less across 5 academic subjects |
| English (IELTS or PTE or TOFEL) | 5.0 Writing 5.0 (other sub-scores 4.5) Equivalent | 5.0(no band less than 5.0) | 5.0 (No band less than 5.0) | IELTS 5.5 overall (all bands 5.0 or above) or equivalent | 5.5 overall with minimum 5.0 in each band |
| FEES | $44,990 (Full Duration) | $44,350 (Full duration) | $33,950 (full duration) | $27,500 | $37,400 (full duration) |
| Scholarship | | | | | |
| Standard Foundation Program ( who have not met the entry requirements ) | | | | | |
| Discipline (Future Degree) | Arts, Commerce, Design & Science | Arts, Commerce, Design & Science | Arts, Commerce, Design, Science & Science (Engineering Science) | | Science, engineering and computer science; business and economics; arts, law and social sciences |
| Duration | 12 Months | 12 Month | 10 months | | 12.5 months |
| Academic Entry Requirment | SPM/UEC – C+/C7 average | SPM - aggregate of 20 or less across 5 academic subjects. | SPM (or forecast) - aggregate of 20 or less across 5 academic subjects | | SPM (or forecast) - aggregate of 20 or less across 5 academic subjects |
| English (IELTS or PTE or TOFEL) | 5.5 Writing 5.0 (other sub-scores 5.0) Equivalent | 5.5 (no band less than 5.5) | 5.5 (No band less than 5.0) | | 6.0 overall with minimum 5.5 in each band |
| FEES | $38,500 (Full Duration) | $34,300(Full Duration) | $24,550 (full duration) | | $29,900 (full duration) |
| Scholarship | | | | | |
| Advanced Foundation Program ( faster pace program) | | | | | |
| Discipline (Future Degree) | Arts, Commerce, Design & Science | Arts, Commerce, Design & Science | Arts, Commerce, Design, Science & Science (Engineering Science) | | Science, engineering and computer science; business and economics; arts, law and social sciences |
| Duration | 9 Months | 9 Months | 7.5 months | | 9 months |
| Academic Entry Requirment | SPM/UEC - B/B6 average | SPM - aggregate of 15 or less across 5 academic subjects. | SPM (or forecast) - aggregate of 15 or less across 5 academic subjects | | SPM (or forecast) - aggregate of 20 or less across 5 academic subjects |
| English (IELTS or PTE or TOFEL) | 6.0 Writing 5.0 (other sub-scores 5.0) | 6.0(no band less than 5.5) | 5.5 (No band less than 5.5) | | 6.0 overall with minimum 5.5 in each band |
| FEES | $32,850 (Full Duration) | $34,300(Full Duration) | $24,550 (full duration) | | $29,900 (full duration) |
| Scholarship | | | | | |
| Transition ( Accelerated University/High Achiever Preparation Program ) | | | | | |
| Discipline (Future Degree) | Commerce, Life Science and Physical Science | Advanced Mathematics,Australian History,Literature,Sociology,Science Practicum | | | Meets the GPA set by ANU for entry to each degree program. course grade totals (6 units each). |
| Duration | 4 Months | 4.5 Month | | | 2.5month |
| Academic Entry Requirment | STPM - C average or UEC -B4 Average | STPM best 3 Advanced level subjects with an aggregate of 14 | | | Depend on degree course taken GPA calculation |
| English (IELTS or PTE or TOFEL) | 6.0 Writing 5.5 (other sub-scores 5.0) | 6.5 with no band less than 6.0 | | | 7.0 with a minimum 6.0 in each component |
| FEES | $22,000 | $23,500 (Full Duration) | | | $18,950 (full duration) |
| Scholarship | | | | | |
| Diploma | | | | | |
| Diploma of Engineering | fast tracks students directly into the the second year | NIL in Taylor available in Usyd Diploma Music, Art, Language, Social Science | | | |
| Duration | 12 Months | 2-4 years | | | |
| Academic Entry Requirment | STPM C+/C average (of 4 best subjects) | Local resident not for international student for selected course | | | |
| English (IELTS or PTE or TOFEL) | 6 Overall, Writing 6, sub-scores 5.5 | | | | |
| FEES | $41,997 | | | | |
| Scholarship | | | | | |
| Diploma Of SCIENCE | fast tracks students directly into the the second year | | fast tracks students directly into the the second year | | |
| Duration | 12 Months | | 8 months, 12 months | | Foundation Studies Extended: 58 weeks, Foundation Studies Rapid: 37 weeks ,Foundation Studies Standard: 50 weeks |
| Academic Entry Requirment | STPM C average (of 4 best subjects) | | STPM (min 1 C and 1 D) OR UEC/Senior 3 with an aggregate of less than 25 points across 6 subjects including English | | STPM- Best 3 with minimum 2 C+ and 1 C, total 5 |
| English (IELTS or PTE or TOFEL) | 6 Overall, Writing 6, sub-scores 5.5 | | Academic IELTS 6.0 (no band less than 5.5) | | EILTS-6.0 overall with minimum 5.5 in each band , TOFEL- Overall 68 (writing no less than 18) |
| FEES | $38,379 | | $29,990 | | $39,840 |
| Scholarship | | | Intakes: FEB, JUNE, OCTOBER | | JAN, APRIL, MAY, JULY, OCTOBER < NOVEMBER |
| | | | | | |
| Diploma Of Commerce | | | fast tracks students directly into the the second year | | |
| Duration | | | 8 months, 12 months | | |
| Academic Entry Requirment | | | STPM (min 1 C and 1 D) OR UEC/Senior 3 with an aggregate of less than 25 points across 6 subjects including English | | |
| English (IELTS or PTE or TOFEL) | | | Academic IELTS 6.0 (no band less than 5.5) | | |
| FEES | | | $29,600 | | |
| Scholarship | | | Intakes: FEB, JUNE, OCTOBER | | |
| | | | | | |
| Add Hock Service (optional) | | | | | |
| Airport pick-up fee | $150 | $190 | $170 | | $110 |
| Under 18 monitoring fee | AUD $49 per week | | | | |
| Care arrangements/ Guardianship fee | AUD $150 | | | | |
| Late payment fee | AUD $300 | $100 | $100 | | $100 |
| Administration fee | AUD $300 | | | | $335 |
| | APPLY NOW | APPLY NOW | APPLY NOW | APPLY NOW | APPLY NOW |